hey all! HAPPY SATURDAY! You don't understand how happy I am for the weekend as I don't have to wake up at 9am for morning classes HAHA, seriously, mornings aren't for me.
Today we'll be looking at mehndi, or some of you might know it as henna! Henna الحناء (al-ḥinnā) is the Arabic name for mehndi, and mehndi is the Indian name for henna.
What's the difference between Henna and Mehndi?
Henna is a dried leaf that is transformed into a ground powder mixed with water to form a paste. Mehndi is a form of body art originating in ancient India, in which decorative designs are created on a person's body. Mehndi can be used for celebratory events, such as weddings, Eid, Diwali etc or even just basic daily practice! I'm no professional Henna Artist haha but it's definitely a hobby of mine and I love to practice! (The images below are not my work, I'm just showing you guys beautiful designs and work of others heheh)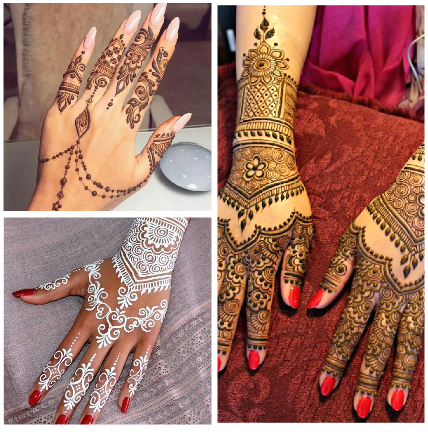 Interesting facts you probably didn't know about henna:
Henna has been used as a hair dye for approximately 6,000 years
For Hindu weddings, henna is painted on the bride to symbolize joy, beauty, spiritual awakening and offering, whereas Moroccans often paint doors with henna to bring prosperity and chase away evil
I'm so excited to share with you all that I have collaborated with MehndiSeasons to show you all the beauty of henna! MehndiSeasons is run by Professional Henna Artist Sunita Patel-Passan, who creates fresh henna cones & bulk henna paste for you to shop, and runs workshops to train others and expand their knowledge on henna! One of the things that makes Mehndi Seasons special is that all their own fresh henna products use only the highest quality ingredients and the most recent henna crop. The henna paste is available in a variety of scents and packages, plus a variety of tip sizes for you to design as bold or intricately as you desire. You can also shop aftercare products, such as aftercare balms, oils and hypafix tape to ensure your henna will produce the best results!
I received my parcel a couple of days ago and I was so EXCITED! I got sent many products from the Henna Fun Kit – a bundle of items to keep your henna stained as possible!
The Henna Fun Kit includes:
5 x 10g Fresh Henna Cones, Lavender, mix tip sizes (0.32mm, 0.38mm, 0.45mm & 0.5mm)
30ml Henna Sealant – Rose
1 meter Hypafix Tape
10ml Jojoba & Rose Aftercare Oil
Lavender Sooth Aftercare Balm
2 packs Flash Tattoos
Henna aftercare information
£25.00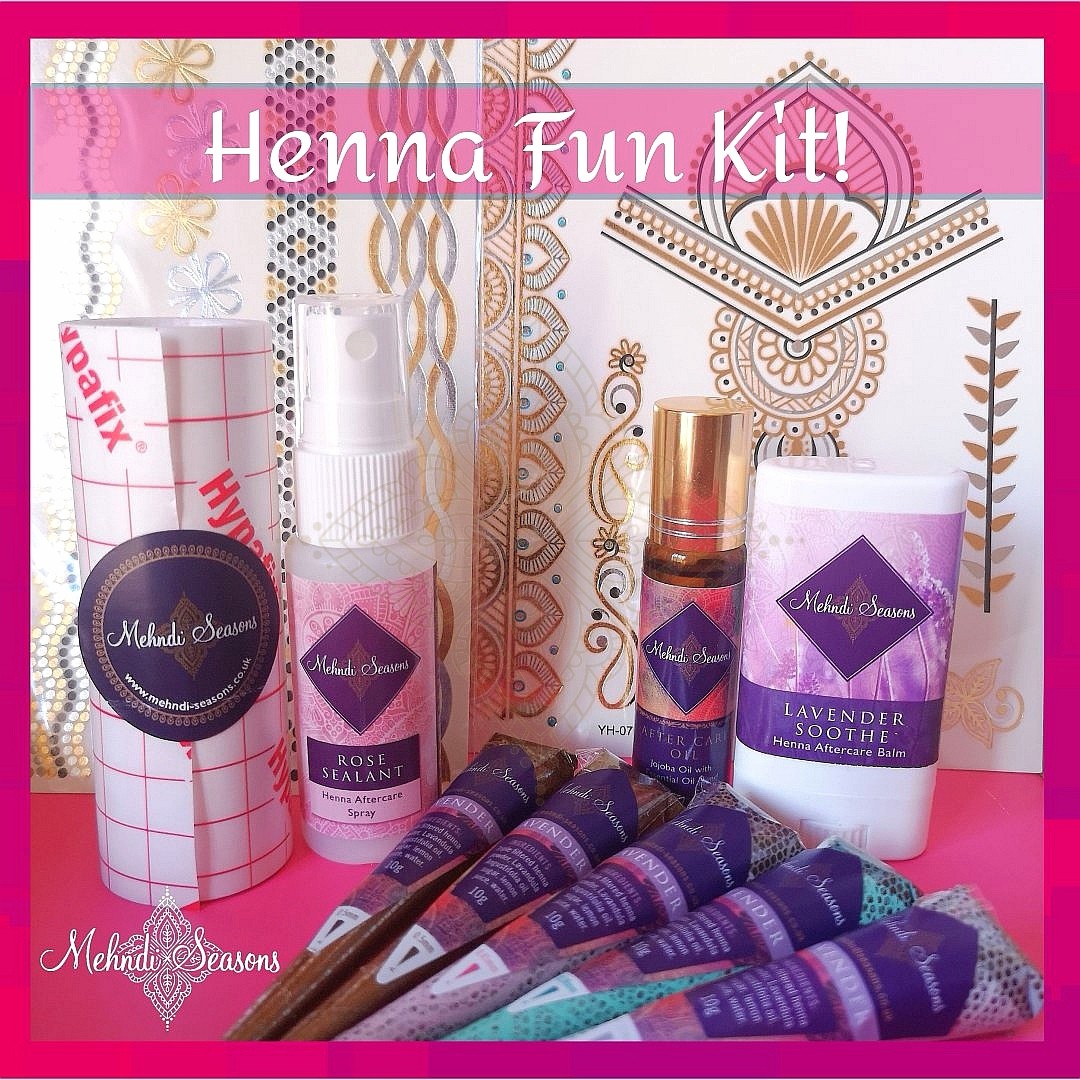 I haven't done mehndi in over a year, so instead, I would just draw designs on paper with pens and fine liners to practice. HOWEVER, now that I have this amazing kit, I can practice whenever as you can freeze the cones for up to 6 months so there's no rush! The aftercare products were so soothing and fun to use, as usually I'd just wait for it to stain but these products help for it to stain longer and protects it. Let me just also say that the packaging and presentation of these products were so beautiful! It made me so happy seeing the cards, stickers and all the colours 🙂
I want to thank MendhiSeasons so much for the opportunity to work with them and sending me these incredible products! Mehndi is such beautiful art and you all need to try it out yourself with  MehndiSeasons! Check out their Instagram @mehndiseasons.shop as well as mine @khushikkaur, and also our TikToks @mehndiseasons and @xkhushikaurx !
Hope you all liked this post on The Art of Henna, until next time! Khushi xx