Streetwear is extremely fashionable and is a style that has influenced the fashion industry massively. When I think of streetwear, I think of utility pants, oversized graphic tees, racer jackets and definitely tote bags! This kind of style has been hugely trending these last few months and I'm a huge fan! I see posts on Instagram from various content creators and fashion influencers with such cool outfits. If you want your wardrobe filled with more streetwear items and some streetwear inspiration, you've come to the right place!
This is my first collab of the year and I'm so happy to announce that I'm working with NeneApparels to create streetwear outfits for you! NeneApparels is a streetwear brand based in London and they design such amazing items, full of colour and positivity! They were generous enough to send me their White Emporer Hoodie and Pink Graffiti Zip Up Hoodie. I'm a huge hoodie fan and couldn't wait to style these!
The White Emperor Hoodie is super soft, comfy and oversized. For £35, you get a very good quality hoodie that will keep you warm and keep people staring at the awesome design on the back!
Features:
Pullover design
Pocket detail
Adjustable drawstring
Long sleeves
Drop shoulders
Fitted trims
Designed in London
The hoodie comes as an oversized fit so or a regular fit, size down.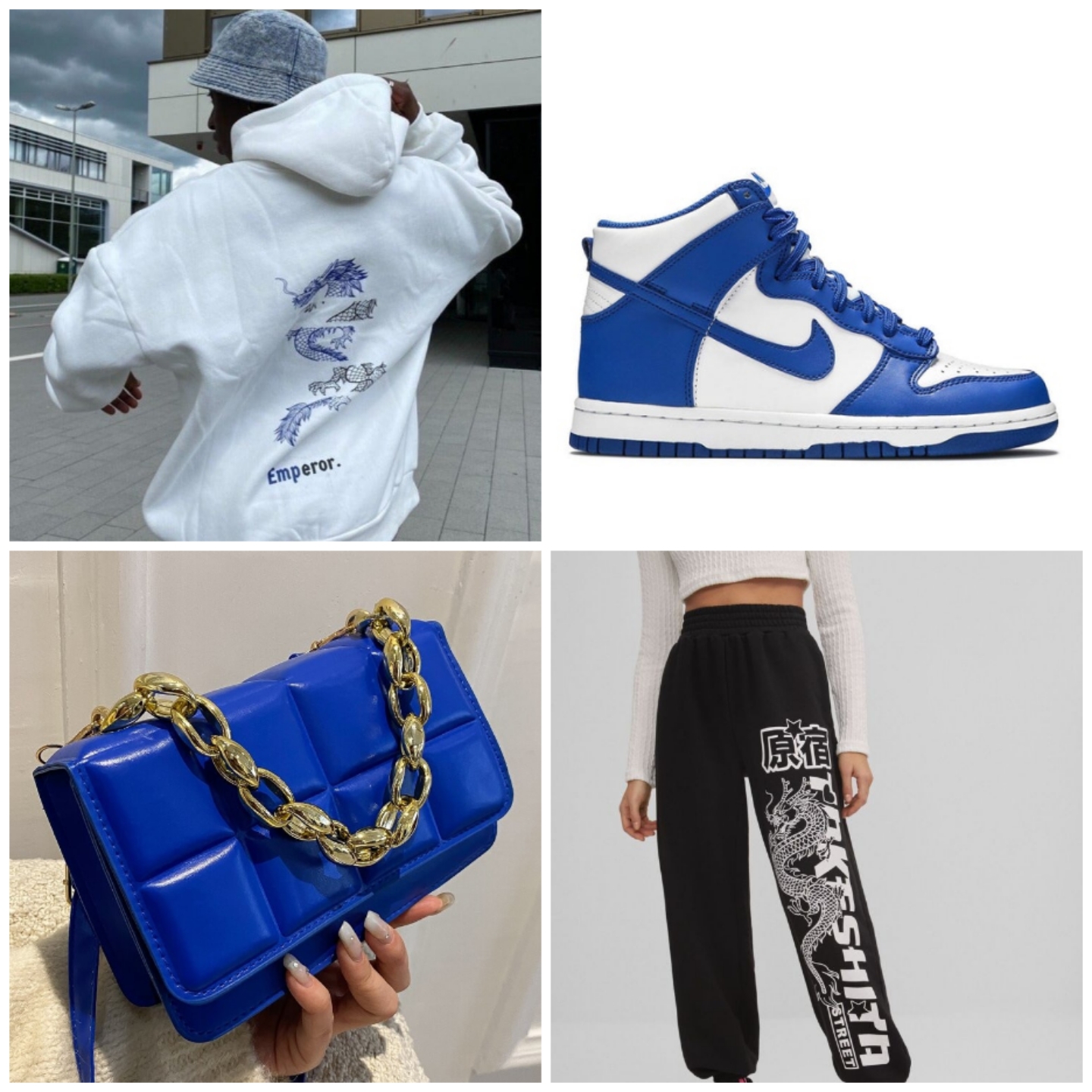 For the first look, I paired the White Emperor Hoodie with black dragon graffiti joggers, blue jordans and a blue gold clutch. This is so stylish with blue accents and that pop of gold. The Japanese style joggers coordinate with the dragon hoodie, making a dragon-design outfit. I wanted to incorporate more blue for some colour, so the jordans and bag are the perfect accessories. This outfit is comfy, warm and perfect for either travelling or a day out walking through the city.
The Pink Graffiti Zip Up Hoodie is definitely one of my new favourite items in my wardrobe! It is really light and oversized which is great as you can wear it in Spring/Summer. The graffiti looks so cool and it's just perfect for casual wear.
Product Details:
Drawstring hood
Zip fastening
Front pockets
Oversized fit
310gsm French Terry
Designed in London
Again, the hoodie comes as an oversized fit so or a regular fit, size down.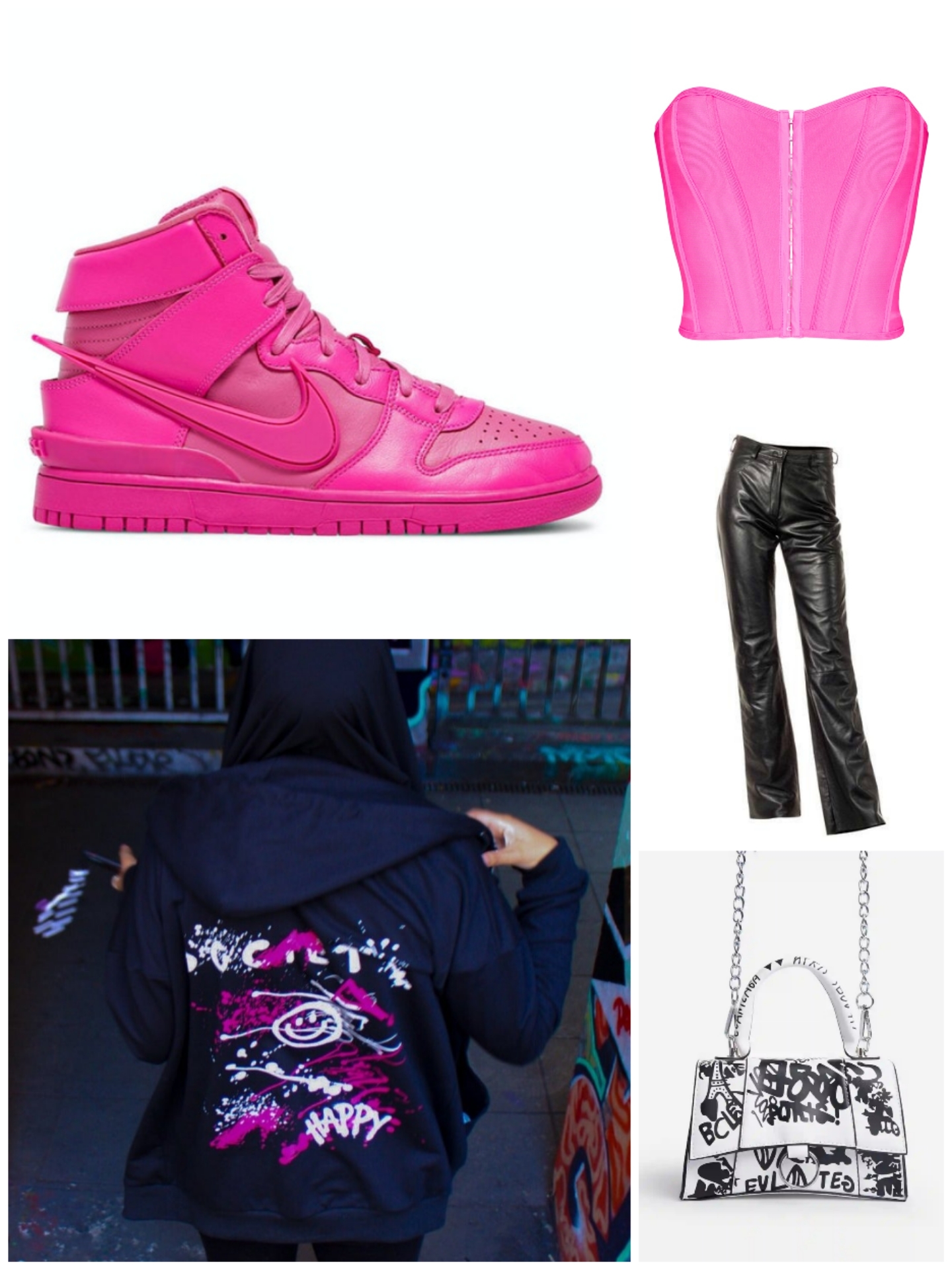 I am so obsessed with this look! I paired the Pink Graffiti Zip Up Hoodie with some leather pants, a pink corset top, a graffiti style crossbody bag and pink jordans. Just like the previous outfit, I like to coordinate similar styles of items to make it look complete! Therefore, the graffiti from the hoodie matches with the super cute bag. This outfit is SUPER chic, very glam and perfect for a night out with the girls!
In terms of accessibility, not everyone has a lot of money to spend on items like Jordans, I know I don't! And some of the accessories above are quite expensive so you can always go for something a bit cheaper. Brands like Asos and IKrush have very affordable footwear which you could check out. You can find bags from TKmax or even Everything £5, and some really nice pants from ISawItFirst or H&M. Remember, you don't need to spend money on expensive items to look or feel good!
Thank you NeneApparels for working with me and sending me these fabulous items, I can't wait to wear them! Make sure to check them out to transform your wardrobe with some sick streetwear pieces, and check out these links to see our socials 🙂
NeneApparels Instagram: https://www.instagram.com/neneapparels/
My NeneApparels feature: https://www.instagram.com/p/CYg3k9iIc0u/