Hiya everyone, happy half-term! So today I have collaborated with Maps International and they sent me this STUNNING Map for my room as a "room décor" piece.
Maps International is a leading online wall map retailers supplying an extensive range of products to the world. Situated in picturesque Oxfordshire, their mapping team works with passion to bring a superb map collection. Their team includes specialist cartographers, so detail as well as design is what they do best! Their catalogue of maps is comprehensive and caters for both functional use and home décor. As well as being popular for businesses their maps are prevalent as gifts or for the individual decorating the home. Whatever your requirement, interest, or décor style, they're sure to have the map you want.
My mum and I moved last year before lockdown and my room STILL isn't complete! As in I haven't hung up much art work, lights, posters etc and I think it's time to get it done now haha. I definitely don't stick to one aesthetic because I like them all and they each are cool in their own way. So today I will give some room décor ideas and inspiration for you to turn you room into your sacred place 🙂
Travelling is my absolute passion and not being able to travel for over a year has been unbearable!! So I thought nothing feels more right than getting a World Map and hanging it up in my room. This popular antique world map stood out to me out of all the others, with its artistic antique-style muted tones. I didn't want something too colourful as most of room is neutral, so this map is perfect as it has very soft tones, incorporation of a light pink and some gold detailing.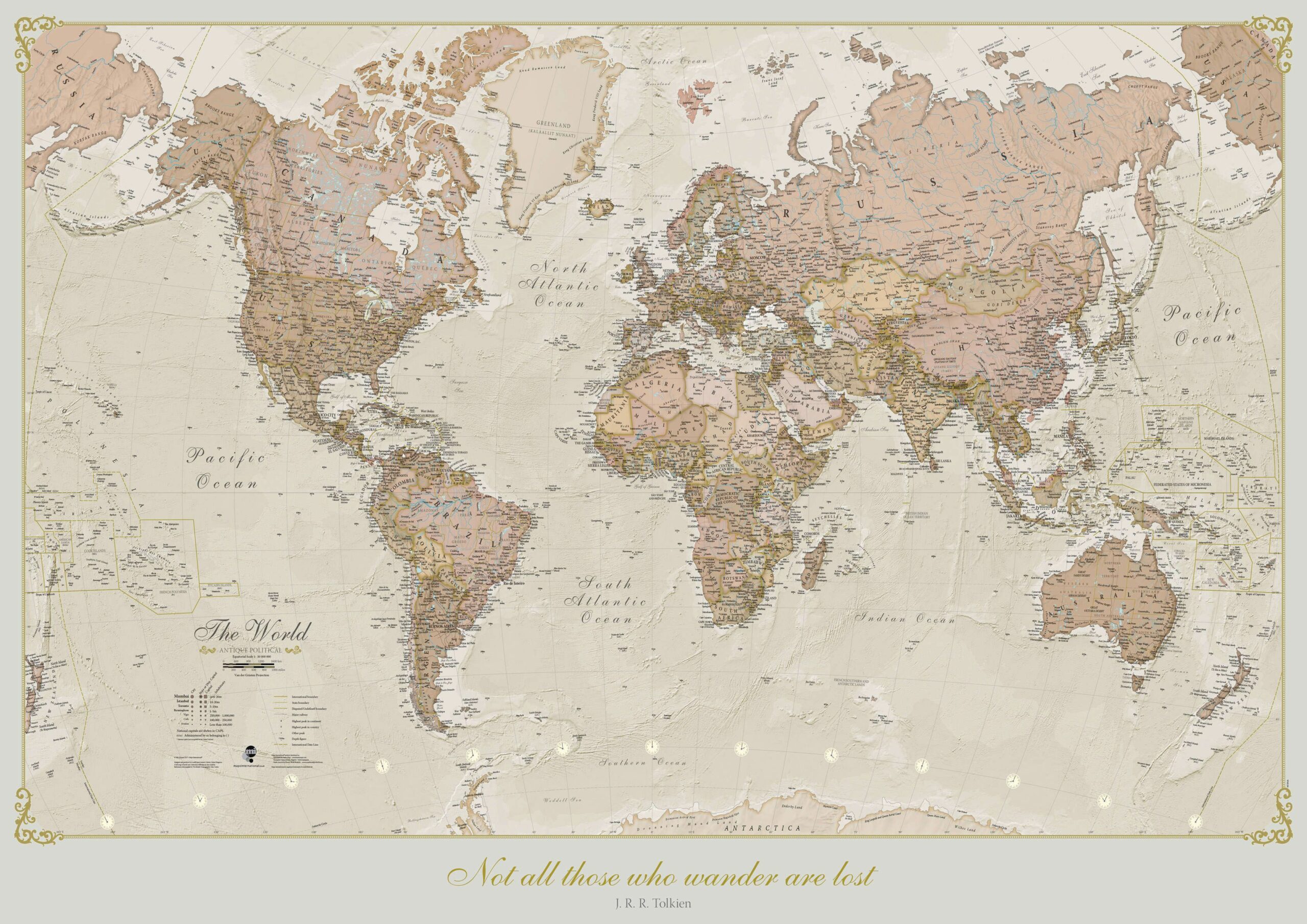 Map Detail: Splendid wall map art of the world in vintage style. Complete with political detail (countries shaded in different tones), country boundaries and cities shown.
Map Uses: This antique world map is perfect for adding an exclusive feel to your home or office. This world antique wall map art also adds a touch of luxury hung in the home, ideal for the more discerning customer.
Size Selections:
Small — 59 x 42 cm: £17 to £351
Medium — 84 x 59 cm: £18 to £351
Large — 119 x 84 cm: £24 to £351
Huge — 197 x 117 cm: £29 to £351
Not only do you have a variety of sizes you can choose from, but there are so many options of how you want your map finished, for example: paper, laminated, digital canvas and SO MUCH MORE! Click here to see all the options 🙂
Tapestries / Wall Hangings
If you have really large blank walls, like me, and want some more softer textured wall art rather than constant canvases and frames, buy a tapestry! They are a piece of thick textile fabric with pictures or designs formed by weaving coloured weft threads or by embroidering on canvas, used as a wall hanging or soft furnishing. You can get them with so many different designs such as landscapes, quotes, spiritual etc; I've always wanted a space themed one, with stars and the moon because I'm really into all that.
Media Posters
These are like my favourite because I LOVE movies and music so I love to have posters of my favourite artists, rappers and movies in my room. I love to watch new movies and listen to new music to expand my taste and I like to have that passion of mine displayed up in my room. For example, one of my favourite movies is Twilight (for sure), one of my favourite TV Shows is The Vampire Diaries (I love vampire stuff lol), my favourite Artists are… actually I have too many, there's definitely not just one lol
If you're not into movies or films that much, get posters of other things you enjoy! Quotes, Travel Posters, Floral Prints, or even posters of you and your family and friends! I recently ordered some FreePrints of my friends and family and just some good moments throughout the years 🙂
Bedding Covers
If you're a bed bug like me, I'm sure you can agree with me that your bed has to be nice and comfy for you to spend all those hours watching Netflix! There are SO many designs and coloured patterned beddings you can get, other than plain white sheets. (Nothing wrong with that, I know people might like some more simpler styles) You can get a duvet set in your favourite colour, a vintage style, a glamorous glitter set, a floral patterned set and sooooo much more! Just imagine walking into your room with a cool bedding set, it's just wo much more fun!
Fluffy Pillows
These are another one of my favourites because they are so cosy and nice to chill with. You can easily get them for a couple quid from Primark (if you live in England) or even Amazon for affordable prices. If you're not really into fluffy pillows, buy some pillow cases of some other designs you like, for example: quotes, simple block colours, patterns, or even get personalised covers where the options are really unlimited!
LED LIGHTS
LED Lights are like a must if you're a teenager haha! They are so popular and trendy, especially the strips which you stick all around your room. They are so aesthetic because they fill your room with colour and reflect your mood and emotions which I guess is a good way to express your feelings. I don't have any which is such a shame but I'll get them soon hopefully!
Fairy Lights
I feel like these are a must as well also because they add such a warm soft glow to your room! Unlike LED Lights, these are more subtle and a great way to use them is to add notes and photos to them! It's so pretty when you hang your favourite memories onto the lights and it all looks so magical and just happy! I used to hang them as buntings on my window and in Summer, they'd look so BEAUTIFUL when you can see the pink sky setting and that gentle breeze brushing your curtains… omg can't wait for Summer now!
So here are just a few ideas on how you can upgrade your room and turn it more stylish and cosy! Thank You Maps International for sending me this spectacular map, honestly it makes me so excited and happy to see it when I walk into my room because it reminds me of all the places I need to visit! Make sure you check out their Instagram @mapsinter as well as mine @khushikkaur 🙂
Have a great week, Khushi xx