Hi everyone, hope yall are well! So I am so excited to share with you my first Fashion Collaboration for 2021 with Be Glam! Spring is soon arriving and Be Glam and I have collaborated to share with you all the different crop tops you need for this year and how to style them!
Be Glam UK was founded and created in 2019 and is a new women's online clothing brand bringing you the latest trends and styles from celebrity inspired outfits to catwalk fashion attire at an affordable price. They have a wide selection of clothing, all so stylish and affordable, and they have generously sent me one of their GORGEOUS crop tops! Crops tops are so trendy but there are so many different styles and ways you can wear them, one being as loungewear with some oversized joggers, or more glam with a sequined skirt and heels!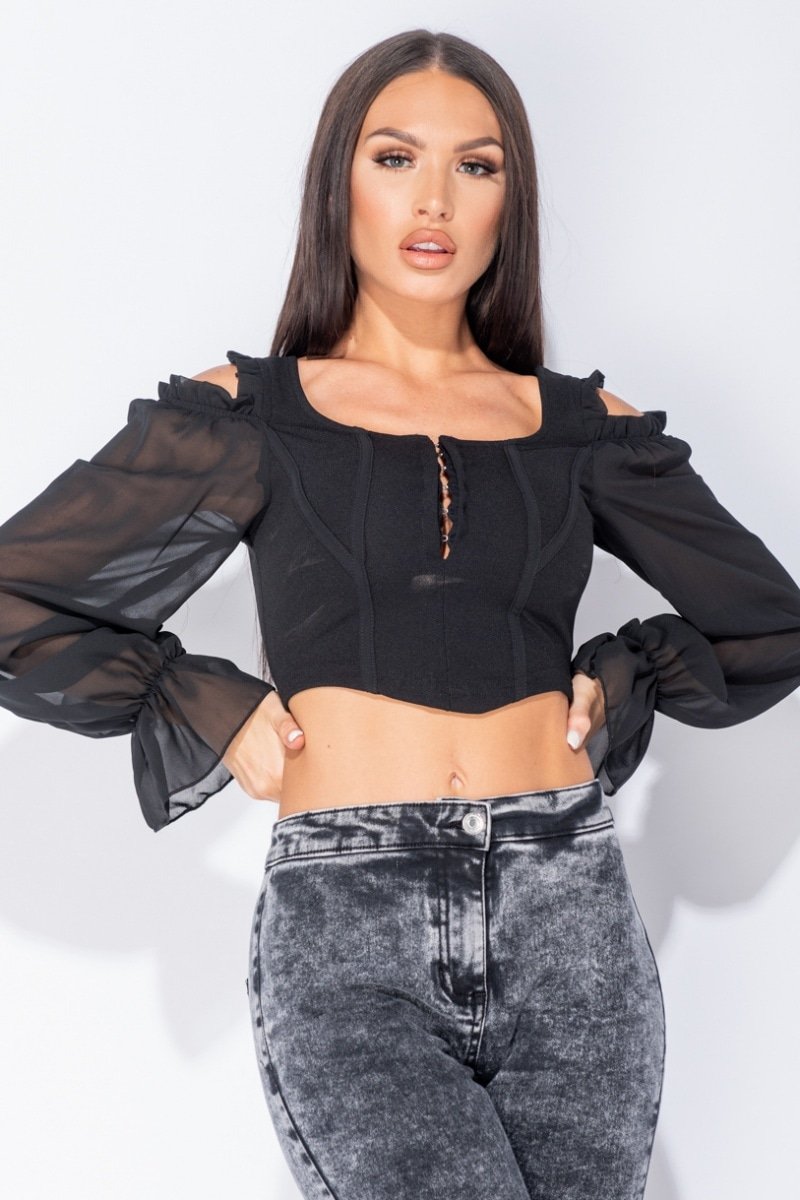 When I saw this top I was like "OMG I so need to have this!" Corset Tops are seriously trending right now and the amazing thing is that they can literally be paired up with anything. This affordable crop top is PERFECT for Spring with the thick good quality corset and light sleeves. The stretchy corset is so flattering with easy hook clasps and the off shoulder is so sexy!
DESCRIPTION
Black cold shoulder crop top
Sheer sleeves
Hook & eye fastening
Regular fit
Approx. length is 43cm based on a UK size 10
Model is 5ft 7″ & wears UK size 8/EU size 38/US size 4/AUS size 8
97% polyester 3% elastane 
Machine washable
Price – £12.00
I would pair this up with a bold flowy red maxi skirt, black lace up heels and a gold statement necklace! (This gives me very senorita vibesss) I would definitely wear this outfit for an evening out in Morocco going to dinner, looking absolutely fabulous hehe!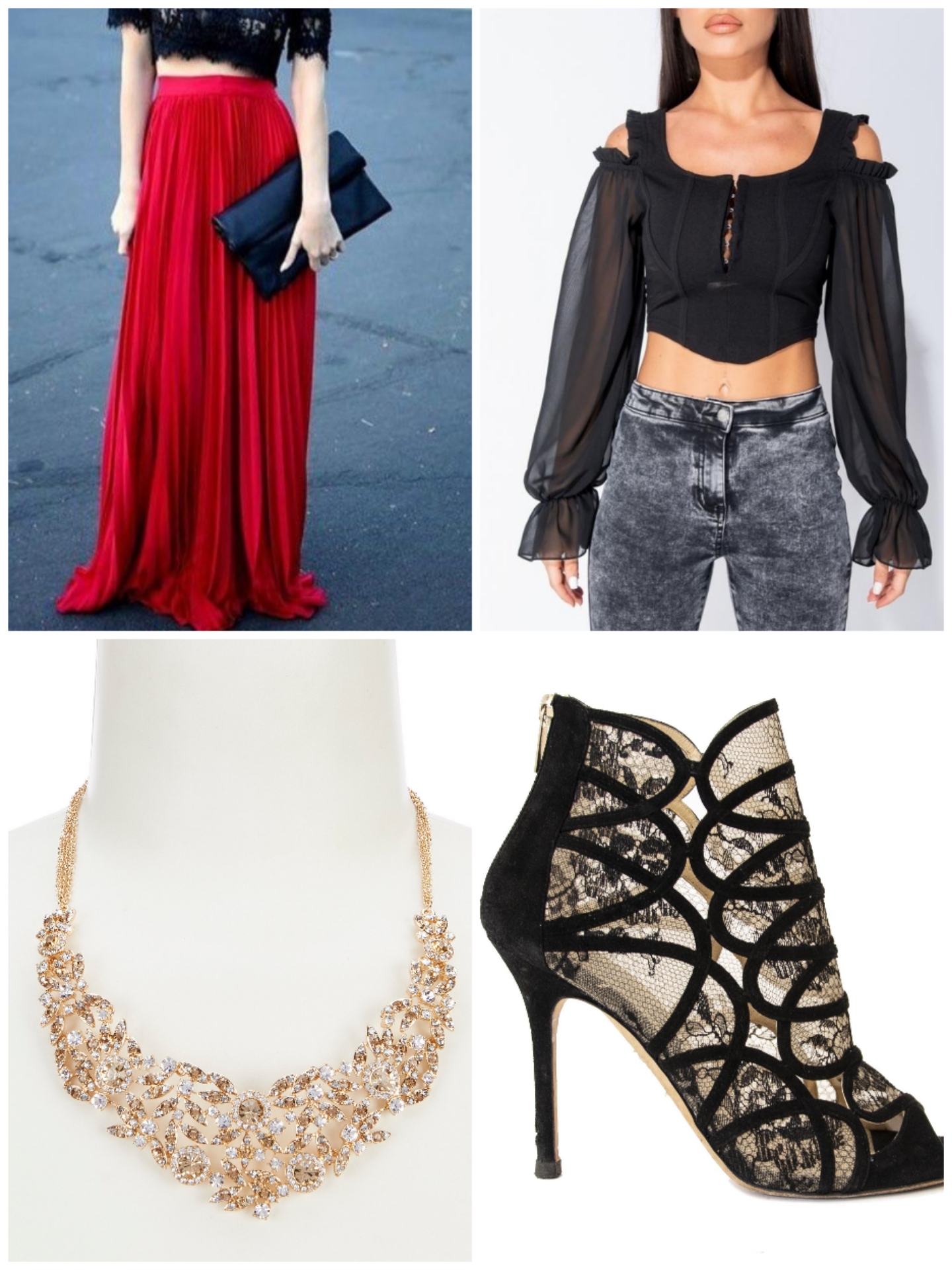 Secondly, Ruched Crop Tops!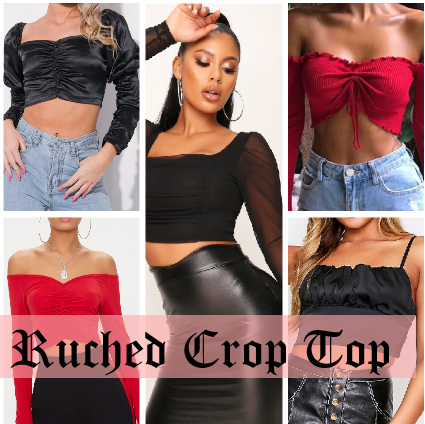 Ruched Crop Tops are slinky tops that are designed to hug your figure! You can get these in so many different styles: bardot, silk cami, puff sleeve etc. I would say these are more outgoing fancy evening tops rather than casual wear but you can easily pair these up with some basic oversized joggers for that "pretty but simple look" or a pair of ripped boyfriend jeans if you're going out, making it comfy but super stylish!
Thirdly, Boxy Crop Tops.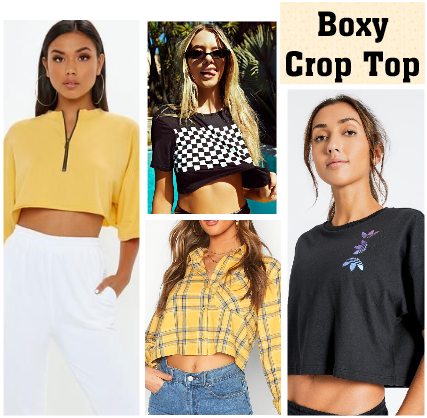 These Boxy Crop Tops are more casual and have a relaxed fit, however don't think they can't be more elegant! Check out this yellow checked blouse: it's still a boxy crop top but looks so stylish with the combination of colours and the collar. If you don't like tops to be tight fitted or as revealing, this is what you need: you're more covered because of the looser material and they're super comfy. You can get them also as slogan/graphic tees which are more fun and vibrant or as simple loungewear 🙂
Next, Ribbed Crop Tops!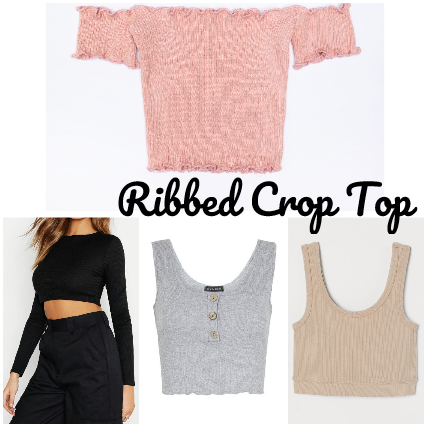 The term ribbed refers to the type of knit of the fabric of the t-shirt, generally made out of cotton and cotton blends. Ribbed Tops are a STAPLE for your wardrobe; they're basic essentials, comfy and causal. You can get them as basic vests and tank tops (get multiple in neutral colours so you can pair them up with anything) or something more classy like a bardot top!
Lastly, Cami Tops!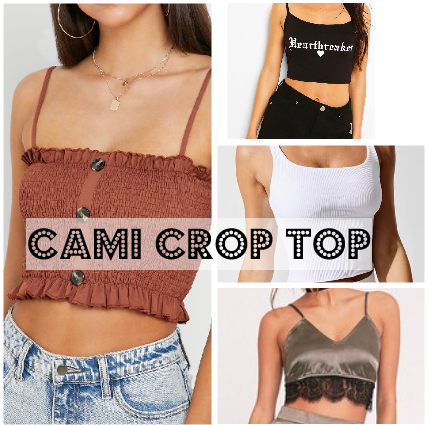 Cami Tops are such a must for the upcoming warmer seasons. They can be worn as basic vests as something casual, slogan tees for loungewear of something more fancier like a satin cami with lace detailing! The number of bottoms you could wear with a cami crop top are ENDLESS: shorts, joggers, all the different styles of jeans and skirts etccc Like I said, these are great for the warmer seasons as you the sun will be shining, however depending on where you live and it gets a bit chilly, grab a cardigan or a light jacket!
So guys, these are the basic crop tops you need to add your wardrobe for 2021! If you're looking to buy some, make sure you check out BeGlam first as their products are definitely good quality, affordable and so fashionable! I want to thank Be Glam for collaborating with me and sending me this gorgeous crop top (honestly can't wait to wear it) and make sure you check out their Instagram @beglam_uk, as well as mine @khushikkaur! Also check out my TikTok account @xkhushikaurx where I filmed a cute short video, styling this corset crop top with other items and accessories 🙂
Have a great weekend xoxo
Khushi