Being a Youth Ambassador for The Eve Appeal, which is a charity for ovarian cancer, I love doing fundraising and raising awareness.
From time to time, I like to sell their beautiful heart badges for £2 to raise money. Here are some ways I do fundraising!
Make a lemonade stall: Create jugs of fresh lemonade and sell it to all the thirsty people in the Summer. You can also make other drinks like ice tea or orange juice.
A yard sale: Get a whole bunch of items you don't need anymore and sell it to the people who might want it.
A Cake Bake Sale: Bake a load of cakes and cupcakes and sell it to all the people who has a sweet tooth. Let the customers decorate their own cookies and biscuits with icing and different types of candy.
A Tea & Coffee Stall: (RELATED: The Little Coffee Bag Company)
Obstacle Course: Create a fun obstacle course by putting some items in a pattern that are easy to jump and climb over. The winner will get a prize!
A Photography Gallery: Take some gorgeous pictures of the things that makes you happy and frame them neatly and sell them.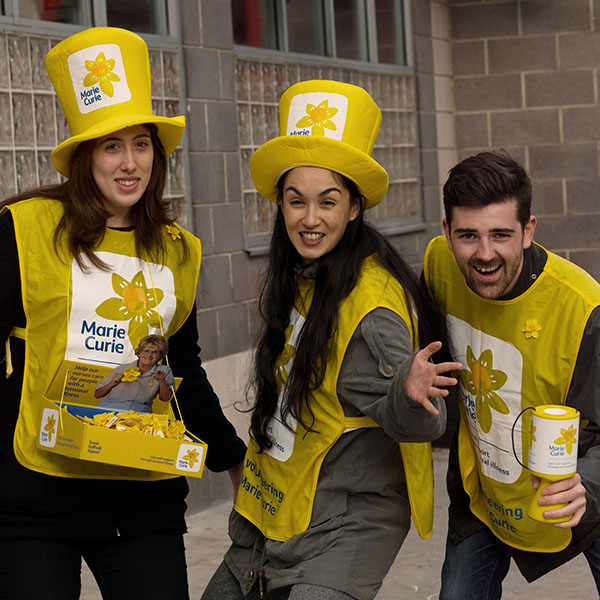 About the Great Daffodil Appeal
Marie Curie's Great Daffodil Appeal has been raising awareness and funds since 1986.
Every March, millions of people across the UK show their support for Marie Curie's work, simply by giving a donation to wear a daffodil pin.
Every hour donated by collectors, every penny raised, every daffodil people wear – it all helps fund crucial hours of care at home for people living with any terminal illness. So families can make the most of the precious time they have left together.
https://www.mariecurie.org.uk/daffodil

For more information about Marie Curie, please click links below: